Cash Flow
The Cash Flow tool allows you to view your deposit and spending history and predict future balances. You can add recurring bills and payments with several frequency options, including one-time, monthly, quarterly, and annual payments, and estimate the impact of a new recurring expense on your future available cash.
Note:  Your financial institution (FI) has a choice of two providers for Financial Tools: MX or Geezeo. This feature is only available to users with MX Personal Financial Management. To learn more, see Determining your Financial Tools provider.
Setting up the Cash Flow tool

The first time you open the Cash Flow tool, you are shown suggested recurring expenses and deposits to add as Cash Events.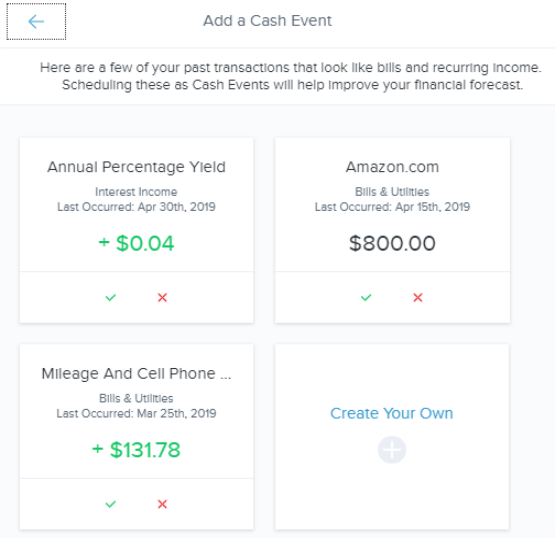 To add a suggested Cash Event

Select to add the Cash Event, or dismiss it with .

Configure the frequency.

Select Save.
Using the Cash Flow tool

After configuring your Cash Events, you can view your available cash based on all accounts and view estimated balances in the near future. The following image shows the parts of the Cash Flow tool. The numbered elements are described below.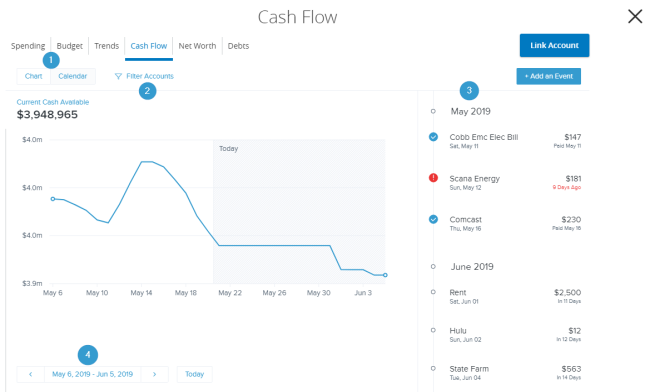 Switch between Chart and Calendar views.
Filter the displayed accounts to focus on specific accounts.
View Cash Events within the currently selected time frame using the timeline. Paid Cash Events are shown with a checkmark, overdue Cash Events with a red exclamation mark, and future Cash Events with a circle
View Cash Events within a specified time frame.